Panchakarma programmes
In an era characterised by stress and the pressure to achieve, the 'queen' of Ayurvedic treatments offers a positive route to long-term regeneration and a new sense of inner equilibrium. A Panchakarma treatment is a tried and tested way of preventing burnout. The Ayurveda Resort Sonnhof practices this treatment as it was originally conceived while simultaneously integrating it into the holistic system of European Ayurveda®.
All Panchakarma treatments begin with an examination and consultation and pulse diagnosis by our Ayurveda specialists Mr. Gaurav Sharma (B.A.M.S.) and Mrs. Rajat Vashisht (B.A.M.S) Bachelor of Ayurvedic Medicine and Surgery from the Baba Farid University of Health & Sciences in India. The treatment itself proceeds in two phases. During the preliminary treatment, metabolic waste products and toxins are loosened with the help of Ayurvedic pure butter ghee. Guests begin to feel significant benefits at this early stage of their treatment programme as any earlier unpleasant side effects recede and a sense of lightness and joy takes hold. The main treatment's nutritional measures, Ayurvedic massages and treatments, heat therapy, Ushnodaka therapy, and herbal medicine unfold profoundly harmonising and healing effects. The treatments are complemented by Yoga and meditation sessions.
Panchakarma programmes are available for periods of 7, 10, 14 or 21 days.
Panchakarma cures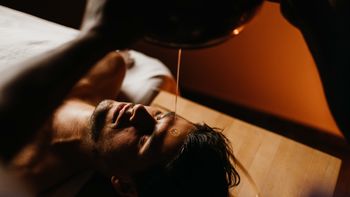 Panchakarma "Light" by a single therapist
Consultation and pulse diagnosis
Nutrition and lifestyle coaching
Concluding consultation
Therapeutic supervision
Snehana – administration of ghee to loosen waste products
Virechana – day of purification
Treatments tailored to suit your personal medical history, e.g.:
• 3 Abhyanga – Ayurvedic full body oil massages 
• Udvartana – herbal powder massage 
• Jambira Pinda Sveda – bag massage,
or
Garshan – silk glove massage 
• Udanavata© – abdominal massage 
• Nasya
or
Akshi Tarpana – nasal
or
eye treatment 
• Shirodhara – flowing oil treatment
• Basti – gentle enema 
• Upana – Alpine salt and oil scrub to release stressful energy and strengthen the immune system 
• Shiromardana – head and face massage  (25 mins)
Swedana – heat therapy
Hot water and ginger drinking treatment
Herbs for the duration of your stay
Weekly programme of Yoga and meditation
Use of the Ayurveda Spa
Feel-good treat: every Panchakarma guest receives a small, beneficial offering with our compliments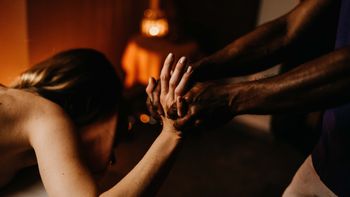 Panchakarma "Light" with treatments by two therapists
Consultation and pulse diagnosis
Nutrition and lifestyle coaching
Concluding consultation
Therapeutic supervision
Snehana – administration of ghee to loosen waste products
Treatments tailored to suit your personal medical history, e.g.:
• 3 Abhyanga – Ayurvedic full body oil massages with two therapists 
• Udvartana – herbal powder massage 
• Jambira Pinda Sveda – bag massage with two therapists,
or
Pizzichilli (Sekka) – full body oil treatment with two therapists 
• Udanavata© – abdominal massage 
• Nasya
or
Akshi Tarpana – nasal
or
eye treatment 
• Shirodhara – flowing oil treatment 
• Basti – gentle enema 
• Upana – Alpine salt and oil scrub to release stressful energy and strengthen the immune system
• Shiromardana – head and face massage
Swedana – heat therapy
Hot water and ginger drinking treatment
Herbs for the duration of your stay
Weekly programme of Yoga and meditation
Use of the Ayurveda Spa
Feel-good treat: every Panchakarma guest receives a small, beneficial offering with our compliments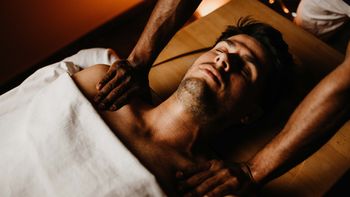 Consultation and pulse diagnosis
Nutrition and lifestyle coaching
Concluding consultation
Therapeutic supervision
Snehana – administration of ghee to loosen waste products
Virechana – day of purification
Treatments tailored to suit your personal medical history, e.g.:
• 3 Abhyanga – Ayurvedic full body oil massages with two
therapists
• Abhyanga- Ayurvedic full body oil massage
• Vishesh – energy massage with two therapists
• Udvartana – herbal powder massage with one therapist
• Jambira Pinda Sveda – bag massage with two therapists or Garshan – silk glove massage with two therapists
• Pizzichilli (Sekka) – full body oil treatment with two therapists
• Udanavata© – abdominal massage
• Nasya or Akshi Tarpana – nasal or eye treatment
• 2 Shirodhara – flowing oil treatments
• 3 Basti – gentle enemas
• Upana – Alpine salt and oil scrub to release stressful energy and strengthen the immune system
• Shiromardana – head and face massage
• Padabhyanga - Ayurvedic foot massage
Swedana – heat therapy
Hot water and ginger drinking treatment
Herbs for the duration of your stay
Weekly programme of Yoga and meditation
Use of the Ayurveda Spa
Feel-good treat: every Panchakarma guest receives a small, beneficial offering with our compliments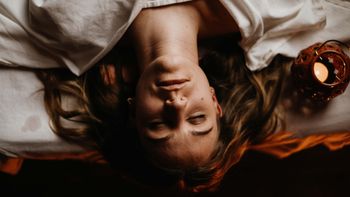 Consultation and pulse diagnosis
Nutrition and lifestyle coaching
Concluding consultation
Therapeutic supervision
Snehana – administration of ghee to loosen waste products
Virechana – day of purification
Treatments tailored to suit your personal medical history, e.g.: 
• 3 Abhyanga – Ayurvedic full body oil massages with two therapists 
• Prana Healing Massage© (85 mins)
• Udvartana – herbal powder massages
• Abhyanga - Ayurvedic full body oil massage
• Vishesh – energy massage with two therapists
• Jambira Pinda Sveda – bag massage with one therapist
• Garshan – silk glove massage with one therapist
• Pizzichilli (Sekka) – full-body oil treatment with two therapists
• 2 Udanavata© – abdominal massage 
• Intensive back treatment 
• Nasya & Akshi Tarpana – nasal and eye treatment 
• 3 Shirodhara – flowing oil treatments 
• 5 Basti – gentle enemas 
• Upana – Alpine salt & oil scrub to release stressful energy and strengthen the immune system 
• Shiromardana – head & face massage (25 min)
• Padabhyanga -  Ayurvedic foot massage (25 min)
• 2 acupuncture treatments performed by Dr Sinop 
Swedana – heat therapy
Hot water and ginger drinking treatment
Herbs for the duration of your stay
Weekly programme of Yoga and meditation
Use of the Ayurveda Spa
Feel-good treat: every Panchakarma guest receives a small, beneficial offering with our compliments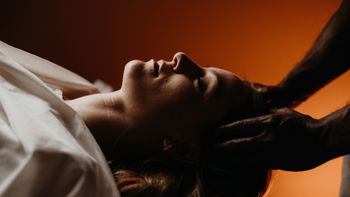 Consultation and pulse diagnosis
Nutrition and lifestyle coaching
Concluding consultation
Therapeutic supervision
Snehana – administration of ghee to loosen waste products
Virechana – day of purification
Treatments tailored to suit your personal medical history, e.g.:: 
• 5 Abhyanga – Ayurvedic full body oil massages with two therapists 
• Prana Healing Massage© (85 mins)
• Udvartana – herbal powder massages
• Vishesh – energy massage with two therapists
• Jambira Pinda Sveda – stamp massage with two therapists 
• Garshan – silk glove massage with one therapist 
• 2 Pizzichilli (Sekka) – full body oil treatments with two therapists  •  2 Udanavata© – abdominal massage 
• 2 intensive back treatments 
• Nasya and Akshi Tarpana – nasal and eye treatments 
• 4 Shirodhara – flowing oil treatments 
• 7 Basti – gentle enemas 
• Upana – Alpine salt and oil scrub to release stressful energy and strengthen the immune system 
• Janu Vasti – oil treatment for the knees
or
Khadi Vasti oil treatment for the back
• Shiromardana – head and face massage (25 mins)
• Padabyhanga - ayurvedic foot massage (25 mins)
• 2 acupuncture treatments performed by Dr Sinop
• Yoga session (55 mins)
Swedana – heat therapy
Hot water and ginger drinking treatment
Herbs for the duration of your stay
Weekly programme of Yoga and meditation
Use of the Ayurveda Spa
Feel-good treat: every Panchakarma guest receives a small, beneficial offering with our compliments