Ayurveda Plus
Dr Alaettin Sinop offers supportive therapies that eliminate toxins, aid weight loss, treat metabolic disorders, restore the immune system after illness, and provide relief in cases of fatigue, sleep disorders, chronic back and joint problems, allergies, asthma and inflammatory bowel disorders. Other indications are food intolerances, digestive complaints, heart and circulatory problems, and menopausal symptoms. Ayurveda Plus also supports lifestyle change and will help you find inner peace and your true self.
Ayurveda Plus acupuncture
Acupuncture is an ancient treatment method and a key component of traditional Chinese medicine (TCM). The theory of acupuncture is based on the assumption that Qi (vital energy) flows through channels known as meridians. Disturbances of this energy flow lead to disease and pain, and can be caused by a number of factors including poor diet, environmental factors, emotional distress and physical strain.
Stimulating acupuncture points with needles, pressure or moxa can balance disturbances in the energy flow.
Ayurveda Plus manual therapy
Manual medicine treats blockages of the spine and joints by means of palpation. Gentle manipulation of the cervical spine to remove blockages is an effective supplement to the traditional methods that are applied to enhance Ayurveda's healing effect. The aim of this special form of treatment is to free the flow between head and torso, thus achieving harmony between mind and body.
Ayurveda Plus neurocybernetic massage therapy
Neurocybernetic massage therapy/HNC involves the kinesiological assessment of systemic disturbances. It releases hidden blockages and distortions, stimulates the excretion of toxins (drugs, vaccines, anaesthetics etc.), locates and disengages stressors that cause function blockages, and triggers emotional resolution. The treatment is akin to a physical and emotional 'reset', and reinforces the effects of the Ayurvedic treatment programme.
Back & spine treatment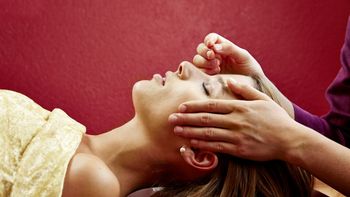 Consultation and pulse diagnosis

Concluding consultation

Therapeutic supervision

Fortifying tonic

Virechana - day of purification

The following 18 treatments, tailored to suit your personal medical history:
• 2 acupuncture treatments by Dr Alaettin Sinop 
• 2 Abhyanga – Ayurvedic full body oil massages 
• Vishesh – energy massage 
• Jambira Pinda Sveda – bag massage 
• 2 acupressure meridian massages 
• Shirodhara – flowing oil treatment
• Udanavata© – abdominal massage 
• Khadi Basti – oil treatment for the back 
• Padabhyanga – Ayurvedic foot massage 
• Neurocybernetic massage therapy/HNC
• Udvartana – herbal powder massage
• Prista – back treatment
• Gamathi© – European Ayurveda® leg treatment
• Back massage (25 mins)
• Basti - gentle enema
Swedana – heat therapy

Hot water and ginger drinking treatment

Herbs for the duration of your stay

Weekly programme of Yoga and meditation

Use of the Ayurveda Spa

Restorative Ayurvedic diet is included in the room price
Dr Alaettin Sinop – treatments
Dr Sinop's treatments are available as supplements to our Ayurvedic treatments and packages. These are medical services for which you will be issued an invoice that you may be able to submit to your private health insurance provider.
Medical Qualifications and Holistic Concepts
incl. brief initial consultation, pulse and tongue diagnosis
Acupressure meridian massage (APM)
The aim of acupuncture meridian massage is to restore the flow of Qi energy in all of the body's systems and to correct energetic disharmony. APM offers a symbiosis of meridian massage, acupuncture without needles, energetic spinal therapy, moxibustion (traditional Chinese medicine heat therapy), cupping, and Gua sha (a traditional Chinese 'spooning' massage).
APM is used to strengthen the centre of the body and the organs, to deal with cold, spinal and joint issues, it provides support in pregnancy and strengthens the human organism when stressed or exhausted. Insomnia and digestive problems, energy blockages and scars are further indications. APM can be very helpful in dealing with acute, subacute, chronic and silent diseases.

Energy tape: € 5
Neurocybernetic massage therapy/HNC */**
*Initial treatment only available in combination with a consultation (15 mins/€53) **We recommend two sessions to achieve a base level of improvement.